Window Treatments for Every Room: What's Important?
June 29, 2022
The process of choosing window coverings for your home should be fun. But, when you're tasked with selecting window treatments for every room, or even just one, it can quickly overwhelm you. The amount of details, choices, features and measurements can make your head spin. Sitting down with a window covering specialist will ease your mind, narrow down the decisions and make choosing fabrics fun. Let's walk through the possibilities and which rooms work best with favorite features…
Create the Perfect Combination: Natural Light + Privacy
For so many areas in our homes, inviting in natural light is a great way to increase positive vibes. But, privacy is a big concern. Is there a way to have both? Yes, there is! These top features will combine both for an amazing atmosphere…
Top down shades

Dual shades

Split tilt shutters
Which areas of the home do most homeowners love this privacy/light combination? 
Entryways

Street-facing Living Rooms

Home Offices

Bathrooms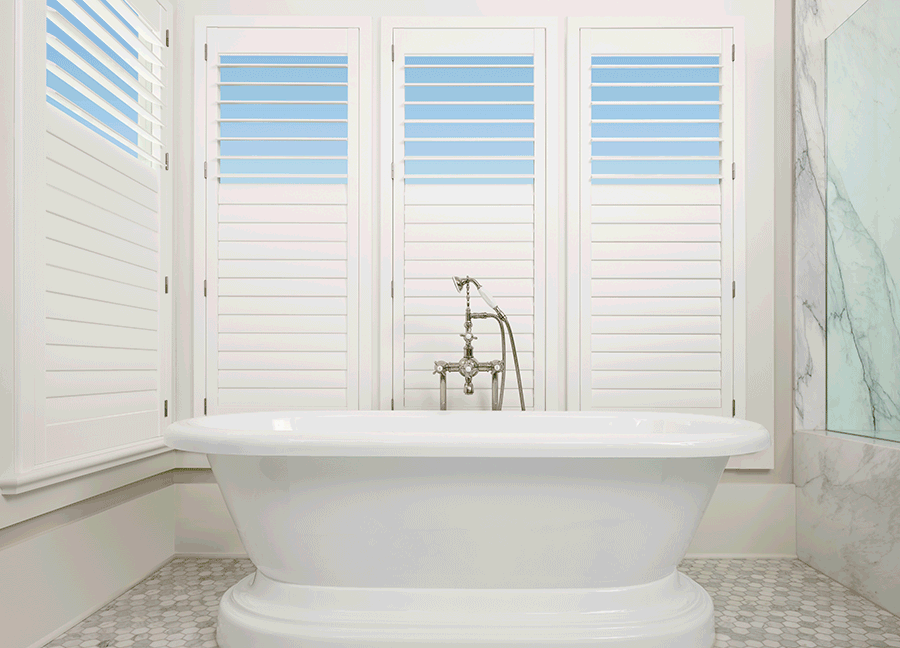 Block Out the Light with Room Darkening
When deciding on window treatments for every room, the bedrooms are most-likely on the list. And, which feature is most popular? Room darkening, of course. Getting a good night's sleep has a huge impact on your health and everyday life.
But, that's not all this amazing feature can do. Blackout shades & room darkening are a great way to customize your spaces. Not just for bedrooms, but also for media rooms and south-facing rooms that get a lot of sunshine all day long. When looking into serious light control, consider these features:
Seal out light gaps with LightLock™
Get a variety of lighting with Duolite® dual shades
Choose fabrics that will block light
Experience automatic control with smart shades
Design Areas of Comfort & Control
When we think of the living areas in our homes–kitchens, living rooms, dining rooms–we want to control the atmosphere so comfort is king. But, since we live in our homes throughout the day–with various activities & lighting conditions–adjustment can be an important factor. Natural lighting improves the mood, but glare becomes an issue pretty quickly. Sunlight streaming in can increase our energy levels, but too much can be exhausting.
We offer a variety of sheer shades. These collections bring soft lighting in, while allowing you to reduce the glare and enjoy the landscape views. Not only are they great in the main living areas of your home, but open floor plans are a great place to bring in sheers that fit the form and function of the space while still coordinating the design.
Handle the "Hard to Reach" Windows
Windows that reach near the ceiling of your home, skylights, or windows that are well beyond reach can be a beautiful design aspect of your home. But, with windows comes light. The uncontrolled light can bring harsh rays and exhausting heat. You might like to cover them, but then they're covered. So, for those rooms where you need to solve issues without sacrificing design, what do you do?
Sometimes, the windows that are tough to adjust aren't high up on the wall. Layout challenges, like furniture and fixtures can get in the way of much-needed control. Smart shades are an incredible way to ensure the ideal atmosphere. Make adjustments in an instant, or sit back and enjoy scheduled adjustments that fit your lifestyle.
Which rooms often feature hard-to-reach windows?
The Entryway
The Living Room
The Bathroom
Need Window Treatments for Every Room?
Or just one? No matter the area of your home that needs solutions, our team would love to help. We'll sit down with you to listen to the way you'd love your house to be–and what issues you're currently facing. We have the knowledge and expertise to guide you to the right products and features. Then, we'll help you have fun with the design! Get in touch with our team at Aero Drapery & Blind for your FREE appointment!